Direct-on-chip, Waterless liquid cooling
ZutaCore HyperCool uses a highly efficient, two-phase boiling and condensation process, the ZutaCore HyperCool solution moves large amounts of heat off the processors and away from servers.
HyperCool is a complete, closed-loop solution for cooling the hottest processors of 1500W and above. It uses a direct-on-chip method, one of the most effective forms of cooling, to apply coolants directly to the chips to extract and disperse heat. No water is used in the system, so equipment is protected from corrosion and other water-related threats.

HyperCool is scalable and can be deployed in new or retrofitted data centers, supporting 100kW and above of computing power. The innovative design of HyperCool allows heat re-use in the data center, producing the lowest PUE and highest efficiency in any climate.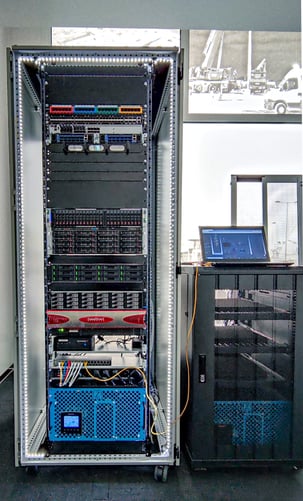 Use
Cases
ZutaCore's HyperCool can be configured for use in racks, in rear doors, and in whole rows. It can also be deployed in hot spots, across entire data centers, and edge facilities. The dielectric liquid cooling is prepared for any evolution in high-powered chips; there is no limit to what it can cool, even as processor packages progress toward 1000W and beyond.

CLOUD DATA CENTERS
HyperCool fundamentally changes the economics of the data center by increasing power density 10x. REITs, hyperscalers, enterprises, and others are achieving significant financial benefits with even small changes. For example, converting just 10 percent of data center floor space to high-density racks can double the revenue of the facility. Converting an entire data center creates even more dramatic financial benefit, making it possible to generate 10x the revenue compared with traditional air-cooling equipment.
EDGE DATA CENTERS
Virtually all edge computing is installed in spaces outside the highly controlled data center environment. With HyperCool, it's possible to roll a rack into any environment without the need for special air-conditioning or cooling water. And high-powered computing can be installed in 90 percent less space than traditional air-cooled hardware occupies. With these benefits, HyperCool systems enable edge everywhere, from IoT and on-prem industrial computing to hybrid-cloud fintech and more.

HOT SPOTS
With the advent of commercially available 400+W processors, data centers are faced with the quandary of cooling intense heat loads in environments typically designed for chips of much lower power. HyperCool Dielectric Cold Plates attach to any processor to eliminate hot spots resulting from insufficient air flow, regardless of the environment or the package power. HyperCool can be installed in any server, in rack or in rear door, even those originally designed for air cooling.
How It Works:
Direct-On-Chip,

Waterless

Dielectric Liquid Cooling
Using a high efficient, two-phase boiling and condensation process, the ZutaCore HyperCool solution moves large amounts of heat off the processors and away from servers, with zero disruption to the data center.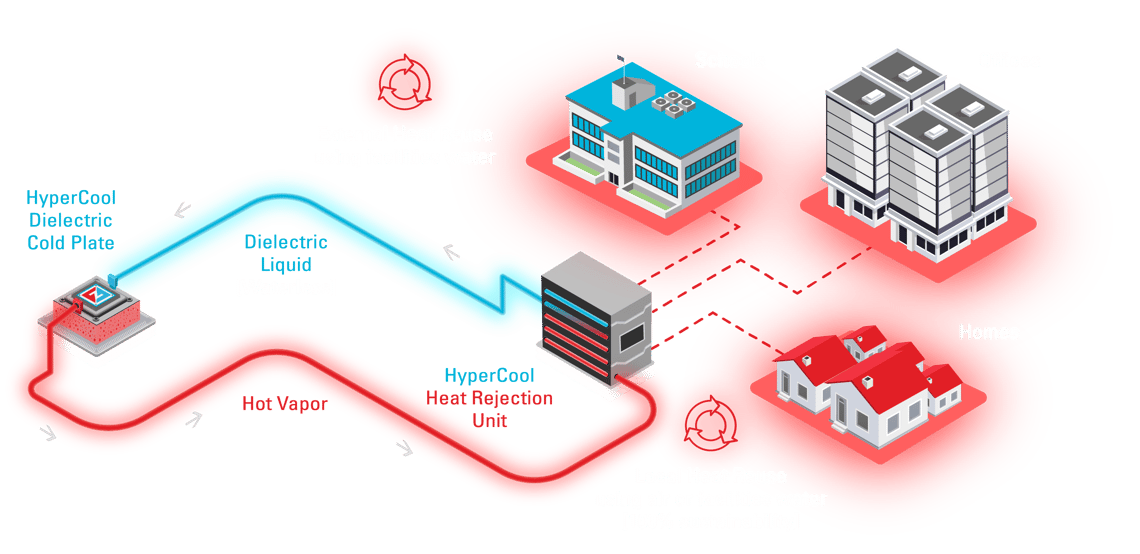 Zero Emissions Is
Within Reach
ZutaCore is ushering in a new, net-zero generation of data centers.

Unrivaled heat dissipation at the chip
HyperCool is uniquely built for dense, high-temperature compute environments. Its elegantly simple, mechanical, waterless, direct-on-chip evaporative cooling solution moves large amounts of heat off the chip — reliably, effectively, and safely, with no practical limit to heat dissipation.

Greatly reduced carbon footprint
The cornerstone of an net zero data center strategy, HyperCool slashes the consumption of scarce resources including energy, water, and land, while reducing capital and operating expenses by a magnitude of two.

More cooling in less space
A self-contained and self-regulating system, HyperCool triples the processing capacity of highly dense computing environments using less than 50% of the energy and half the space of conventional cooling systems.
ZutaCore Hypercool, a Complete Cooling Solution
Direct-on-chip dielectric liquid cooling that delivers 10x more compute, 50% TCO reduction, and reduced CO2 emissions for a sustainable data center and industry. The system includes:
Hypercool Dielectric Cold Plate
A direct-contact, self-regulated, pool-boiling based evaporator enabling networking and simultaneously cooling all chips, on-demand. Compact, easy to install, and capable of cooling up 1500W processors and above. Qualified by leading processor manufacturers Intel and AMD and deployed in major server manufacturers including Dell, SuperMicro, Gigabyte, and Cisco.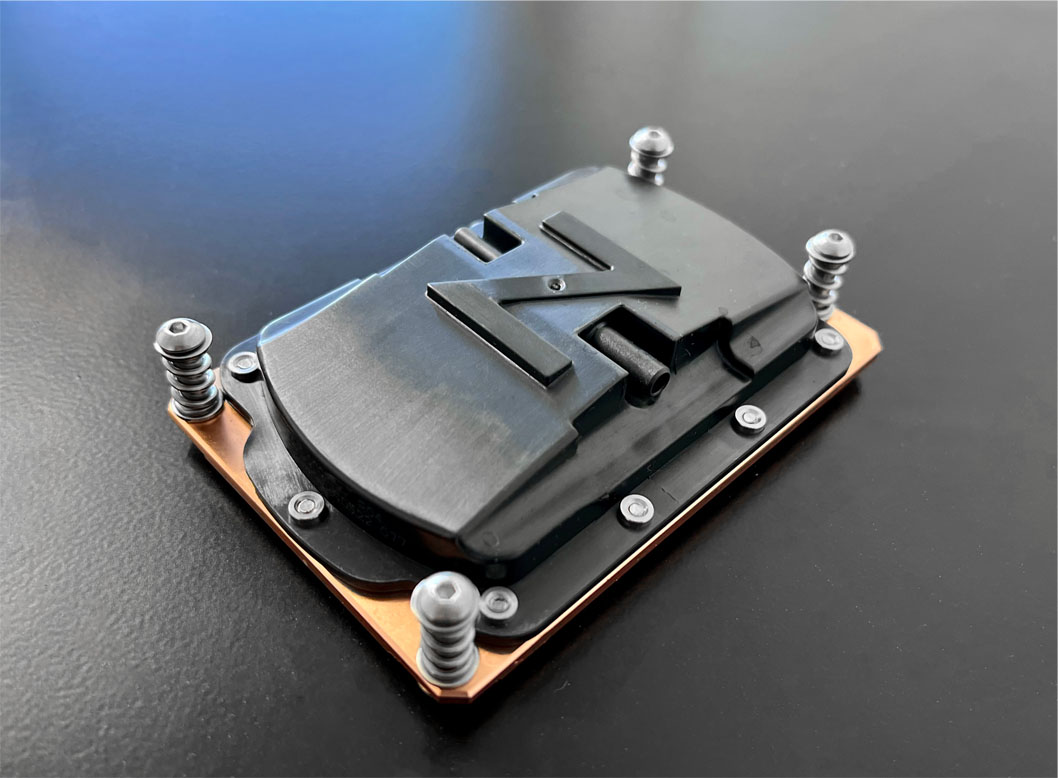 Hypercool Manifold
A self-contained manifold that fits into standard and custom racks. Once mounted, it distributes the liquid refrigerant to all servers in the rack as well as directs vapor refrigerant to the Heat Rejection Unit.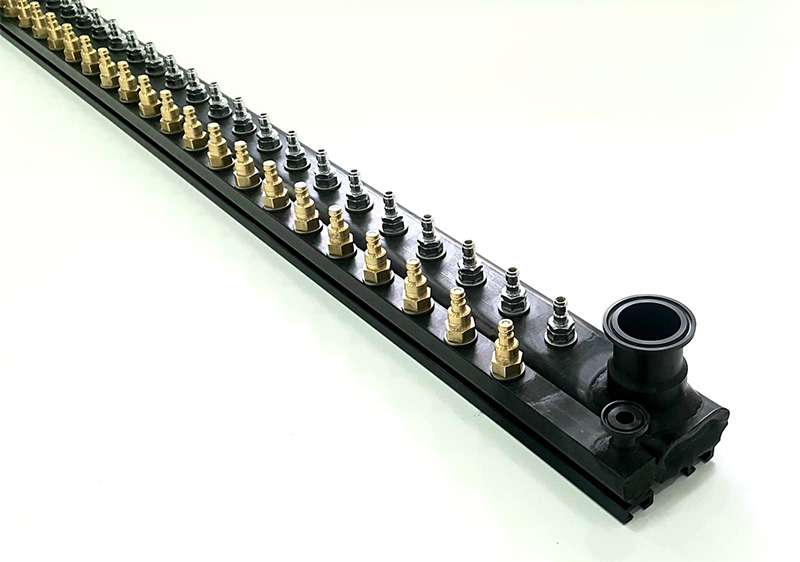 HyperCool Heat Rejection Unit
HyperCool is scalable and can be deployed in new or retrofitted data centers. It supports 100kW and beyond of computing power when used with a 6U water or 6U air in-rack Heat Rejection Unit (HRU). These self-contained, fully autonomous units have independent sensors, pumps, controllers, and multi-level leak detection and prevention. The HRU moves the liquid to the servers and ensures efficient condensation of the vapor and rejection of the heat it contains. The innovative design of HyperCool allows heat re-use in the data center producing the lowest PUE and highest efficiency in any climate.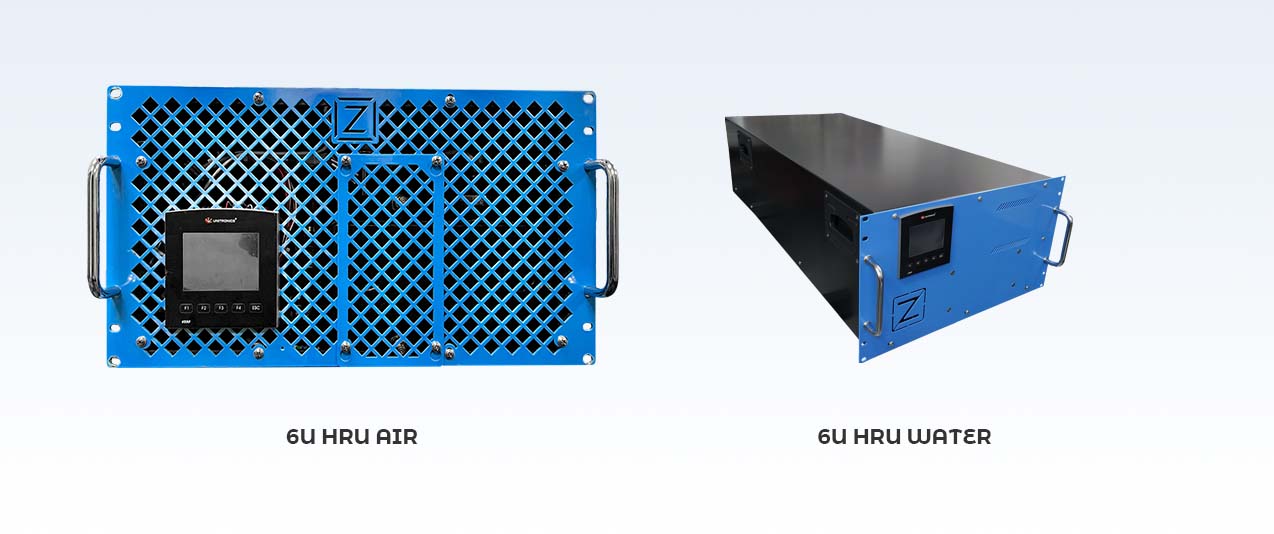 Hypercool Software Defined Cooling
The HyperCool Software Defined Cooling (SDC) solution automates resource provisioning and management to improve system performance and optimization. It provides monitoring and control for the server CPUs and the HyperCool Heat Rejection Units. It also provides server performance data and analytics - temperatures, load, utilization, clock speed, fan speed, and power consumption.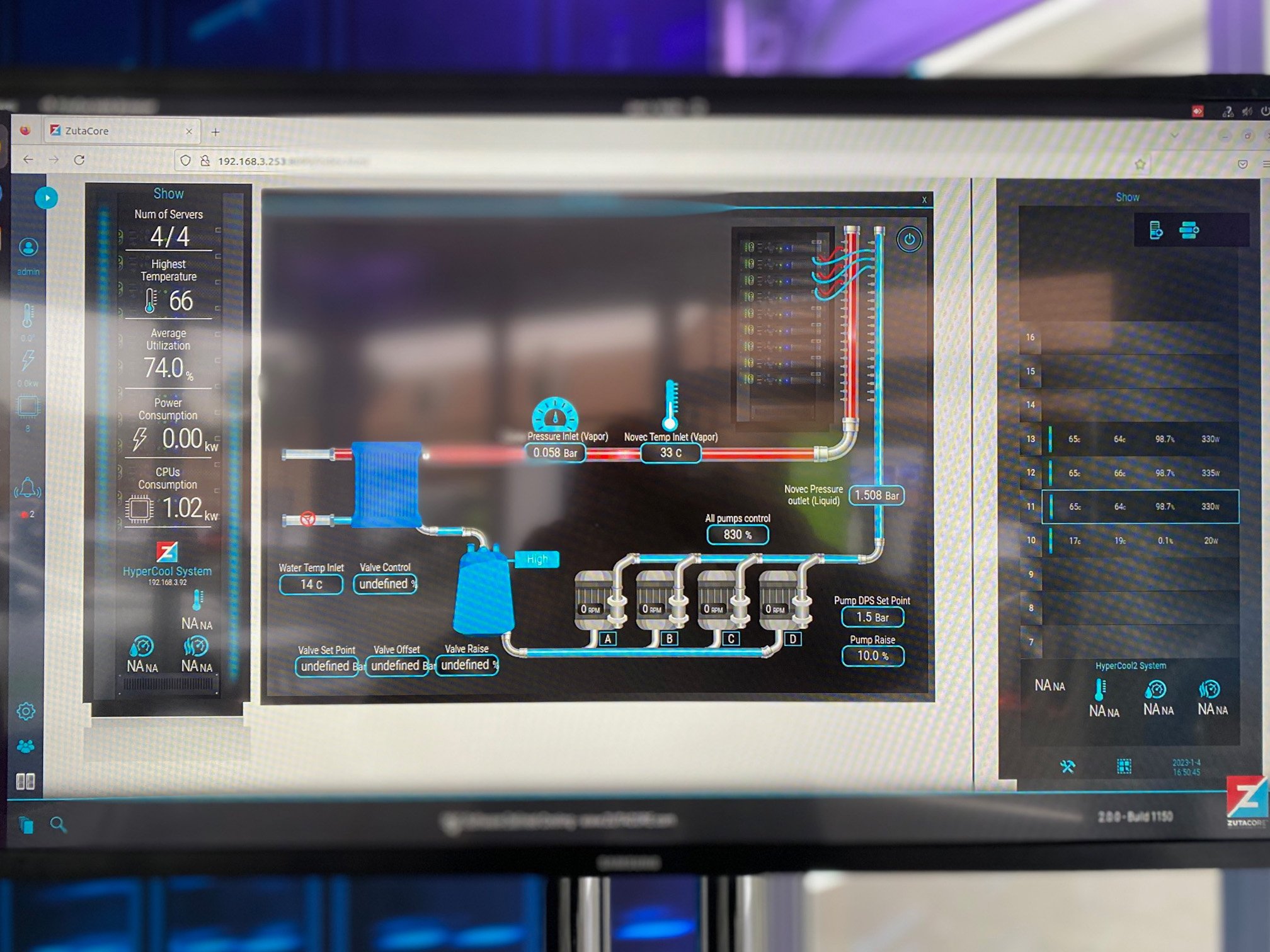 We're Ushering in a New,

Net Zero
Generation of Data Centers
Take a closer look at the technology bridging the gap between data industry sustainability and ever-increasing computing power.
ZutaCore Helps Fortune 100 Financial Services Company Identify a Data-Driven Path toward Zero Emissions
Utilizing the power and intelligence of the WWT Advanced Technology Center (ATC) to definitively identify ZutaCore as a pragmatic solution to cool its data centers, the customer now has a proven, clear path toward achieving its net zero emissions by 2030.
The Situation
As organizations across the world strive toward a more sustainable future, data centers often serve as a critical barrier to reaching important sustainability standards.
At the same time data centers are massive consumers of energy and rarely optimized for efficiency leading them to need to find more efficient ways to cool their data centers.
Recognizing this challenge, one of the largest financial services firms in the world turned to WWT to provide an actionable, practical approach.
The Solution
Pull a set of servers to begin testing solutions and found encouraging results from one solution ZutaCore, a liquid cooling system.
In the proof of concept,a cumulative power draw of 33 servers over 24 hours with a 99 percent CPU load while being cooled with liquid and then in a separate test air.
Effectively, a more temperate server means server fans and/or data center air conditioning units have to work less, creating a more efficient and cost-effective operation.
The Benefits of Ingenuity
Transforming the Data Industry to Zero Emissions
10x More Compute. 100% Heat Reuse. 50% Total Cost of Ownership Reduction
Reach out today to start putting the benefits of HyperCool to work for your green initiatives.
Connect With Us

At World Wide Technology, we foster a culture of innovation and have high standards for qualifying new technologies for our Advanced Technology Center. When implemented on Intel technologies, we found ZutaCore's HyperCool to be a reliable, scalable, and cost- effective liquid cooling technology, well suited for both brown- and greenfield projects.
Global HPC Business Practice Leader, WWT
UNLOCK THE POWER OF WATERLESS LIQUID COOLING FOR THE MAINSTREAM
Our eBook discusses why performance- and sustainability-minded operators alike are turning to liquid cooling for a zero-emission data industry.