WATER IS FOR PEOPLE NOT FOR SERVERS
Discover the latest direct-on-chip liquid cooling updates from the data industry, showcasing inspiring success stories of global organizations leading the charge in achieving zero emissions in their data centers. Delve into the advancements of ZutaCore as they bring dielectric liquid cooling to the forefront, in collaboration with Chatsworth Products, enabling data center owners and operators to attain significant energy efficiency. Gain an exclusive sneak peek into how Università di Pisa, a prestigious institution with a remarkable heritage dating back to 1343, is embracing the immense potential of dielectric liquid cooling.
Stay connected with us on Linkedin for the most up-to-date news and updates.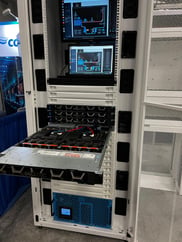 Latest News
Introducing the ZutaCore direct-on-chip dielectric liquid cooling solution, seamlessly integrated with Chatsworth Products ZetaFrame™ Cabinet System. With a 4,000 lb. dynamic load rating, the ZetaFrame supports fully-loaded racks, equipped with the state-of-the-art ZutaCore HyperCool liquid cooling system. This groundbreaking technology reduces energy consumption, water usage, waste production, and carbon emissions.
Read more
Customer Spotlight
Our Italian partner, Mactronics.IT, introduces the ZutaCore HyperCool system to Italy's thriving market. At the prestigious Università di Pisa, we are direct-on-chip dielectric liquid cooling Dell Technologies OEM Solutions servers, housed in an advanced Vertiv rack. Established in 1343, the Università di Pisa is transforming their data center to meet the high-performance computing (HPC) challenges of international research and education. Together with our global partners, ZutaCore delivers zero emissions to the data industry.
ZutaCore HyperCool in Action
Experience the revolutionary power of liquid cooling for enhanced data center efficiency. Elevate server efficiency, slash expenses, and unlock unparalleled compute density with our innovative solution. Watch our ZutaCore HyperCool video to see how we are transforming the data industry to zero emissions.
Watch the video
Eco-friendly Data Center
Be a part of our movement towards a sustainable and eco-friendly future for global data centers. Get your hands on our captivating eBook and discover the secrets of building a sustainable data center with ZutaCore.
Download the eBook